Slight decline in EU meat consumption
According to EU agricultural outlook 2019-30, meat consumption per capita in the EU has so far been on an upward trend.
After the economic crisis and a dip in 2013 (due to the restructuring of the dairy sector, new regulations affectingthe pigmeat sector and tight meat supply in general) consumption has recovered strongly since 2013 (+4.7kg per capita until 2019). This is thanks to the improved economic situation for households and ample supplies of all meat categories, despite growingexport volumes.
EU meat consumption is expected to decline from 69.8kg to 68.7kg per capita by 2030 for several reasons: growing social and ethical concerns, environmental and climate worries, health claims, an ageing European population (eating smaller portions) and lower meat availability on the domestic market. The overall decline will be accompanied by a shift in the consumer basket.
Beef is expected to continue its downward trend. Meanwhile, the ongoing replacement of pigmeat by poultry meat consumption will go even faster, due to an increased import demand for pigmeat in Asia. Sheepmeat consumption is expected to increase slightly thanks to the diversification of the meat diet and changes in the EU population (religious beliefs and migration). Other trends in meat consumption are to be considered: changing dietary patterns (flexitarians, vegetarians and vegans), especially among young consumers; the increasing importance consumers attach to the origin of meat and how it has been produced (organic, animal welfare, environmental footprint); and a shift from fresh meat towards more processed meat and preparations.
Lab-grownmeat could become a competitor for meat but consumer acceptance and environmental footprint remain unclear.Overall, the downward trend is not visible yet in the available statistics. Diverging trends across EU Member States make the assessment at EU level even more difficult. Although the factors outlined above will very probably result in a future downward trend, the exact timing of the turning point cannot be predicted.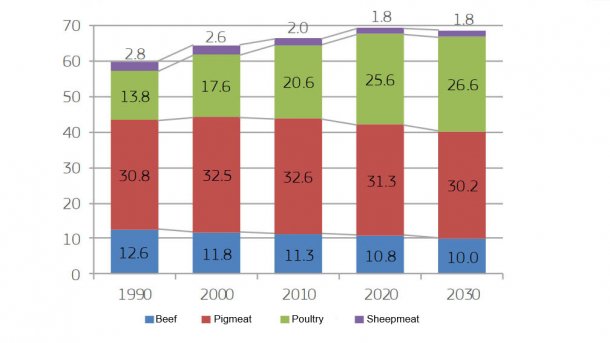 Tuesday December 10, 2019/ DG Agri/ European Union.
https://ec.europa.eu
more info in pig333
---
ASF will continue to affect the global pigmeat market
The African swine fever outbreak in Asia will continue to affect the global meat market and trade flows, according to European Union agricultural outlook for 2019-30 report.
Regarding the impact of the outbreak of African swine fever (ASF) in China on the global and EU meat markets, two options are considered:
a faster recovery where pigmeat production in China outgrows pre-ASF levels in 2030 and
a slower recovery where pigmeat production in China in 2030 is below pre-ASF levels.
For both scenarios, Chinese import demand will reach record levels, leading to higher exports from key exporters, including the EU. This will also lead to a production expansion outside China in the next two to three years. However, in the EU, production increase will be limited by environmental policy requirements in most EU member states.
The pigmeat outlook is particularly uncertain this year given the severe impact of ASF on the supply of several Asian countries, particularly China
By the end of 2020, Chinese production is expected to fall by more than 35% compared to 2018. The resulting supply gap would more than double the world import demand of 2018, and represent more than 80% of the EU pigmeat production. Therefore, the gap can only be partially covered by imports, which will significantly rise, as high prices in China should make producers in exporting countries divert products normally consumed locally. Chinese pigmeat production will only begin to recover from 2021, if the disease is contained, and could be stabilised by 2025 if the restructuring of its pigmeat industry is successfuland rapid.
EU pigmeat production is limited by public policy choices stemming in particular from environmental concerns in several EU Member States (e.g. Germany and the Netherlands), and by the ASF risk in central and eastern Europe. However, the current surge in world demand and prices will allow for growth in other countries, particularly those with access to Asian markets (e.g. Spain). Once Chinese production begins to recover, EU production and prices should decline significantly. By the end of the outlook period, EU production is expected to fall to pre-2018 levels, as some consumers will not return from poultry to pigmeat consumption.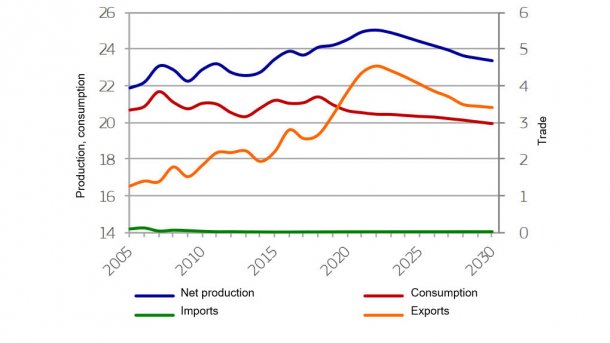 EU pigmeat exports have already risen significantly in 2019, driven by Chinese demand. Shipments should remain high over the outlook period, peaking around 2022, and falling as Chinese supply recovers. However, EU exports are expected to remain higher than todayby 2030, as other trade partners may not have managed to recover completely from ASF. Major uncertainties for the outlook period are the level of Chinese demand by then, and if ASF will be kept out of the main EU export countries. EU pigmeat imports should remain very low.
Pigmeat consumption per capita is already declining in some EU Member States, as consumers tend to favour poultry, which is cheaper and perceived as a healthier choice. The high prices in the first years of the outlook period should accelerate this trend. As a result, pigmeat consumption may fall to 30.2 kg per capita, compared to an average of 32.3kg in 2015-2018.
EU pigmeat prices are already rising in 2019 following Chinese demand, and should still rise in 2020. Prices should remain high until Chinese production recovers, and may fall sharply depending on the speed of the recovery and how much the production of EU competitors (the US, Brazil and Canada) grows. Once the situation stabilises, EU prices should remain at around EUR1500/t by the end of the outlook period.
Tuesday December 10, 2019/ DG Agri/ European Union.
https://ec.europa.eu
more info in pig333
---
USMEF: China fuels October pork exports
October pork exports up with China demand, exports to Mexico fell, future bright with Japan.
Strong demand from China bolstered U.S. pork exports in October, according to data released by USDA and compiled by the U.S. Export Federation (USMEF).
October pork exports increased 8.5% year-over-year to 225,376 metric tons (mt), while export value climbed 10% to $592 million. January-October export volume was 5% ahead of last year's pace at 2.13 million mt, while value increased 3% to $5.48 billion.
Pork export value averaged $48.13 per head slaughtered in October, up 4% from a year ago. For January through October, the per-head average was down 1% to $51.12. October exports accounted for 24% of total U.S. pork production and 20.9% for muscle cuts only, up from 23.6% and 20.7%, respectively, a year ago. January-October exports accounted for 26% of total pork production and 22.6% for muscle cuts, both up slightly year-over-year.
October pork standouts: China, Oceania, Central America
Although still saddled by China's retaliatory duties, October pork exports to the China/Hong region reached 61,062 mt, up 150% year-over-year, while export value climbed 127% to $141.3 million. For January through October, exports to China/Hong Kong were up 55% in volume (468,576 mt) and 34% in value ($974.8 million). Exports to the region already exceed the full-year totals of 2018.
Pork exports to Mexico fell below year-ago levels in October, with volume down 18.5% to 54,639 mt and value declining 9% to $97.3 million — the lowest since April. January-October exports to Mexico were down 11% from a year ago in volume (584,415 mt) and declined 9% in value ($1.02 billion).
"Increased demand in China is pulling some pork cuts and offal away from Mexico as well as other markets, but October shipments to Mexico were nevertheless disappointing," Halstrom said. "The U.S. industry is still feeling the effect of Mexico's retaliatory duties on pork, which were in place for about one year, and rebuilding pork demand in Mexico remains a top priority."
The outlook for pork exports to Japan in 2020 and beyond brightened significantly this week as the Japanese Parliament ratified an agreement that will bring tariffs on U.S. pork in line with those imposed on major competitors. The tariff disadvantage was evident in October, as pork export volume to Japan was down 16% from a year ago to 29,622 mt and value fell 17% to $122.3 million. Through October, exports to Japan trailed last year's pace by 7% in both volume (307,974 mt) and value ($1.27 billion).
January-October highlights for U.S. pork include:
Fueled by strong growth in both Australia and New Zealand, pork exports to Oceania are on a record pace in both volume (95,218 mt, up 39%) and value ($272.9 million, up 37%). The region is an outstanding destination for U.S. hams and other muscle cuts used in further processing.
Exports to Central America were 16% above last year's record pace in volume (76,861 mt) and 19% higher in value ($187 million). Exports to Panama were one-third higher year-over-year and mainstay markets Honduras and Guatemala have both achieved double-digit value growth.
While October export volume to South America slowed slightly from a year ago (13,934 mt, down 2%), value still increased 12% to $35.9 million. Led by steady growth in Colombia and a strong uptick in demand from Chile and Peru, January-October exports to South America remained on a record-shattering pace at 128,469 mt (up 21% year-over-year), valued at $323.8 million (up 25%).
Notes:
Export statistics refer to both muscle cuts and variety meat, unless otherwise noted.
One metric ton (mt) = 2,204.622 pounds.
U.S. pork currently faces retaliatory duties in China. China's duty rate on frozen pork muscle cuts and variety meat increased from 12 to 37% in April 2018, from 37 to 62% in July 2018 and from 62 to 72% on Sept. 1, 2019. Mexico's duty rate on pork muscle cuts increased from zero to 10% in June 2018 and jumped to 20% the following month. Beginning in June 2018, Mexico also imposed a 15% duty on sausages and a 20% duty on some prepared hams. Mexico's duties were removed in May 2019 but were in effect for much of the period reported above.
December 6, 2019 /USMEF/
http://www.usmef.org/
more info in pig333
---