Mexico and Colombia take measures in response to confirmed ASF in Dominican Republic
Following the confirmation of African swine fever (ASF) positive pigs in the Dominican Republic, Mexico and Colombia have taken extreme sanitary measures to prevent the introduction of this serious disease.
In response to ASF being confirmed in the Americas for the first time in more than 40 years, several countries, including Colombia and Mexico, have decided to take extreme precautions to prevent the entry of this disease into their territories.
As for Colombia, the Colombian Agricultural Institute has defined the following actions at ports, airports, and border crossings, as applicable:
Inspection of 100% of the baggage from commercial flights from the Dominican Republic and connecting countries by means of scanners and, when necessary, physical inspection of the baggage.
Validation of cargo flights from the Dominican Republic and Haiti, in order to intensify the inspection of risk products in the cargo.
For the international courier service, the number of products to be physically inspected will be increased by type of risk.
100% of all cargo and passenger vessels from the Dominican Republic and Haiti will be inspected to ensure that no pork products are introduced.
At border crossings, taking into account the possibility of international transit from the Dominican Republic from that country, the frequency of vehicle and pedestrian inspections will be increased.
In all cases, any entry of pork products will be subject to seizure and confiscation.
The director asks swine producers in the country to take extreme biosecurity measures on their farms and to notify of any sanitary situation consistent with ASF in their animals.
On the other hand, the ICA confirms that there are currently no sanitary requirements that allow the importation of pigs or pig products from the Dominican Republic and Haiti.
In Mexico, the Ministry of Agriculture and Rural Development ordered the reinforcement of the first sanitary defense barrier, which involves animal health inspections at all ports, airports, and borders entering the country.
Despite the fact that pork products and by-products from the Dominican Republic are not allowed to enter the country, inspections of travelers coming from the Dominican Republic are being intensified.
Also, the inspection of orders, kitchens, and waste from commercial ships, cruise ships, and airplanes is intensified, in order to seal them for their return to the country of origin or to guarantee that they are properly destroyed.
Senasica is also strengthening the work of the Center for Health Emergency Operations (COES), which daily searches for and compiles health information reported worldwide on ASF and other animal diseases not present in Mexico.
Likewise, the General Directorate of Health is intensifying epidemiological surveillance work carried out in the field by technicians from the United States-Mexico Commission for the Prevention of Foot and Mouth Disease and other Exotic Animal Diseases (CPA).
July 29, 2021/ 333 Staff with data from ICA and SADER.
more info in pig333
---
Germany: Number of organic livestock farms on the rise
The number of organic pigs increased by 36% between 2010 and 2020 and represents just under 1% of the total pig inventory.
According to the final results of the 2020 agricultural census of the Federal Statistical Office (Destatis), the number of organic farms has increased by 41%, rising from 12,300 to 17,300 in the last ten years. Overall, in 2020, a tenth of the 168,800 German farms were organic (6% in 2010).
More specifically, in 2020 there were 13,000 organic cattle farms (+34% compared to 2010), with 861,300 animals; 5,400 organic chicken farms, with about 8,296,900 animals (5% of the total chicken inventory nationwide in 2020; 3% in 2010); 2,700 organic sheep farms, with 243,800 sheep (13% of the total sheep inventory); 1,900 organic goat farms, with 51,400 animals (33% of the total goat inventory); and 1,600 organic pig farms, with a 36% increase in the number of pigs between 2010 and 2020 (from 156,300 to 212,500 animals), representing just under 1% of the total pig inventory.
July 14, 2021/ Destatis/ Germany.
https://www.destatis.de/
more info in pig333
---
Poland: ASF outbreaks spike in domesticated pigs
To date, 31 outbreaks have occurred in domestic pigs, some of them located in areas where the disease had not been detected before.
Although Poland went several months without detecting cases of ASF in domesticated pigs, since the confirmation of the first case of 2021 in March on a farm with more than 15,000 animals, these cases have now soared and there are 31 outbreaks of ASF in domesticated pigs that have been confirmed by the country's veterinary authorities.
In addition to the large number of outbreaks, it is concerning that some of them have been confirmed in areas where the presence of the disease had not previously been detected, and in some cases it has affected farms with a large number of animals.
So far this year, the following outbreaks have been confirmed: 2 in Lublin Voivodeship, 2 in Warmian-Masurian, 1 in Podlasie, 2 in Mazowieckie, 3 in Łódź, 4 in Greater Poland, 3 in Lower Silesia, 5 in Lubuskie, 2 in Lesser Poland and 7 in Subcarpathian Voivodeship.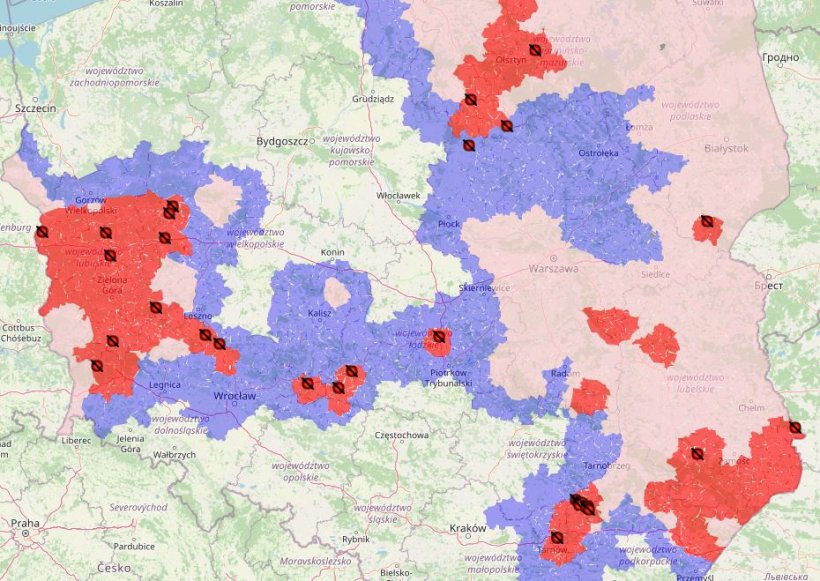 As for African swine fever cases in wild boar, the numbers are steadily increasing. To date, 1,840 cases have been officially recorded in 2021, a large number of them in the west of the country.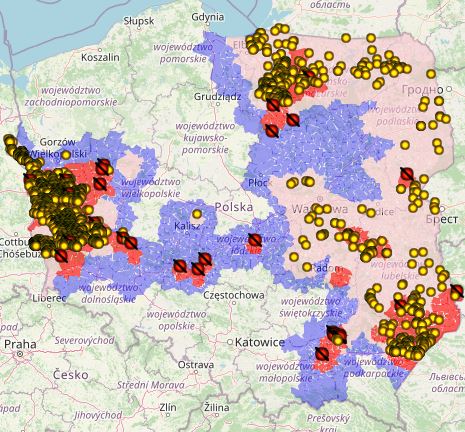 July 23, 2021/ 333 Staff with data from GIW and MAPA.
more info in pig333
---